Get to Know Lee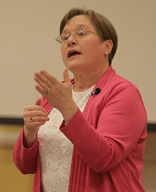 Explore the World of Award-Winning Author & Inspirational Speaker, Lee Szelog                                                                      Lee shares enchanting personal experiences and powerful life lessons through detailed and engaging stories. Her professional photographs enhance and reinforce her storytelling, contributing colorful and captivating imagery to her powerful narratives.  
 Lee's Path to Success Began with the First of Many Courageous Decisions                 As an extremely shy child, Lee struggled to communicate from a very early age. This paralyzing fear of connection held her back from the carefree childhood she longed for. At just 7, Lee made the conscious choice to work toward a goal of overcoming her fear and becoming an effective communicator. It was a brave undertaking for such a timid child, but Lee's youthful stubbornness and commitment to letting go of her shyness paved the way for a life of unforgettable experiences, dreams come true, and an influential body of work!
Lee's personal growth began with a choice, and yours will too! Whether you're 7 or 77, you can choose to let go of whatever is holding you back from finding your powerful and authentic self. 
A Connection with Nature is the Foundation of Lee's Fulfilling Life!                            When Lee first met her husband Tom, she was intrigued by his deep connection with nature. As Tom inspired Lee to experience the power of the natural world for herself, she opened her eyes, heart and mind to nature's unique ability to promote thoughtfulness, tranquility, stress-relief, and introspection. No matter how busy and overwhelming life became, Lee learned that she could turn to nature for solace, comfort, and to reconnect with her true self, all of which have contributed to greater rewards and success in her life. More than 30 years later, this is one of many lessons she continues to share in her award winning books, inspirational speeches, and photography.
Developing a connection with nature can inspire your own journey toward happiness, confidence, success, self-discovery and more. Learn more.
From the Stage to the Shelves, Lee's Work Inspires Readers and Listeners Alike!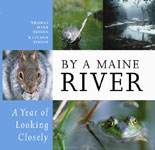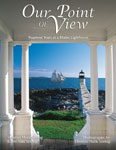 Lee's unique and moving life stories are artfully woven into her speeches and workshops, as well as the pages of the published books she and Tom have written and photographed. From living in a lighthouse on the coast of Maine to a log cabin in the Maine woods, they have documented life, both human and wild. In the multi-award winning Our Point of View-Fourteen Years at a Maine Lighthouse, readers can experience life at Marshall Point Lighthouse in Port Clyde. In By a Maine River – A Year of Looking Closely, Lee and Tom share the natural beauty found in their own backyard in Whitefield, Maine. One of their current endeavors is an upcoming feature length film, created to help viewers discover the unmatched peace of the Maine forest.
Lee has so much more to share with you! To experience stories and lessons, explore her keynote speeches and workshops